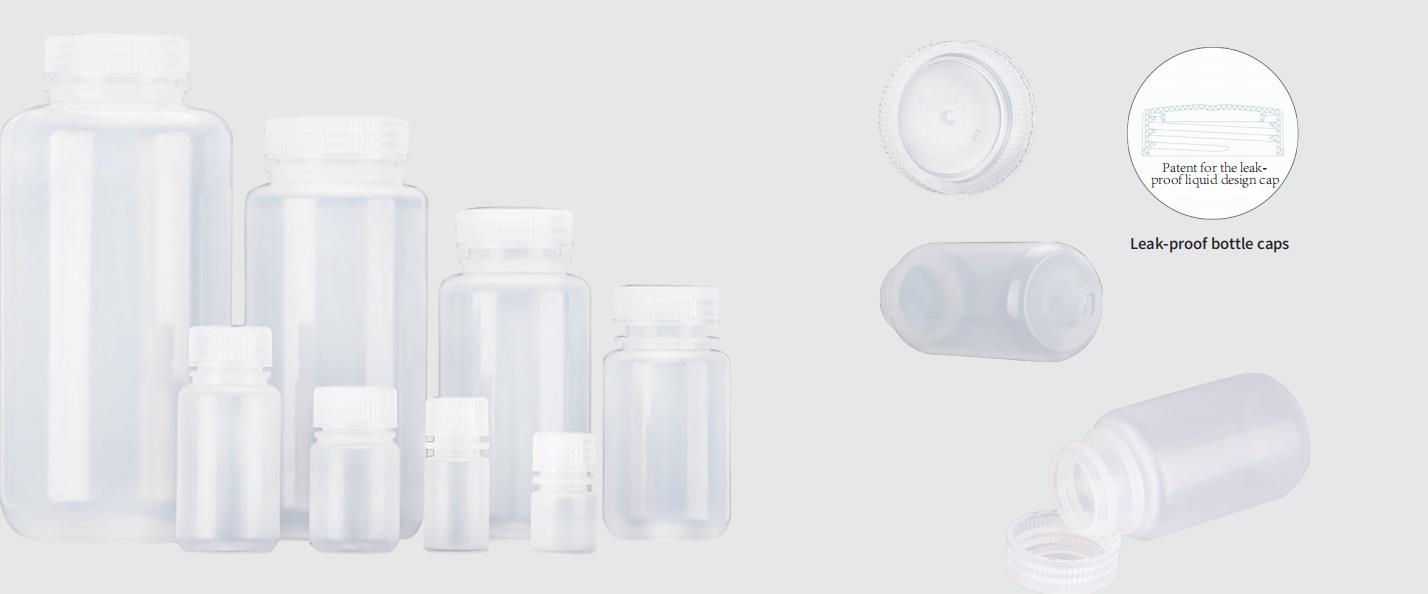 Product Features
Leak-proof design
SunTrine reagent bottles are designed to be leak-proof, repeated opening and tightening will not affect the sealing performance of the bottle, the inner sealing ring of the cap fits against the inner edge of the beveled neck of the bottle to form a leak-proof valve to ensure the cap is sealed.
Uniform wall thickness without wall hangings
SunTrine's world-leading moulding technology and manufacturing facilities ensure that the bottles have a more uniform wall thickness, high quality walls, a robust construction making the bottles suitable for any laboratory a PP lication and effective in preventing breakage or punctures, and a flat bottom which is designed to run smoothly on the filling line.
High quality construction
SunTrine reagent bottles utilise high quality construction for lighter weight and lower bottle costs, and are factory-ready for bulk packaging, with a variety of packaging options available
Natural PP .
Natural PP . Made of polypropylene ( PP ), which is heat resistant to 121°C and can be autoclaved, with a translucent bottle and more facilitate viewing the status of reagents.
Complete range of sizes
SunTrine reagent bottles are available in a wide range of sizes from 8ml to 1000ml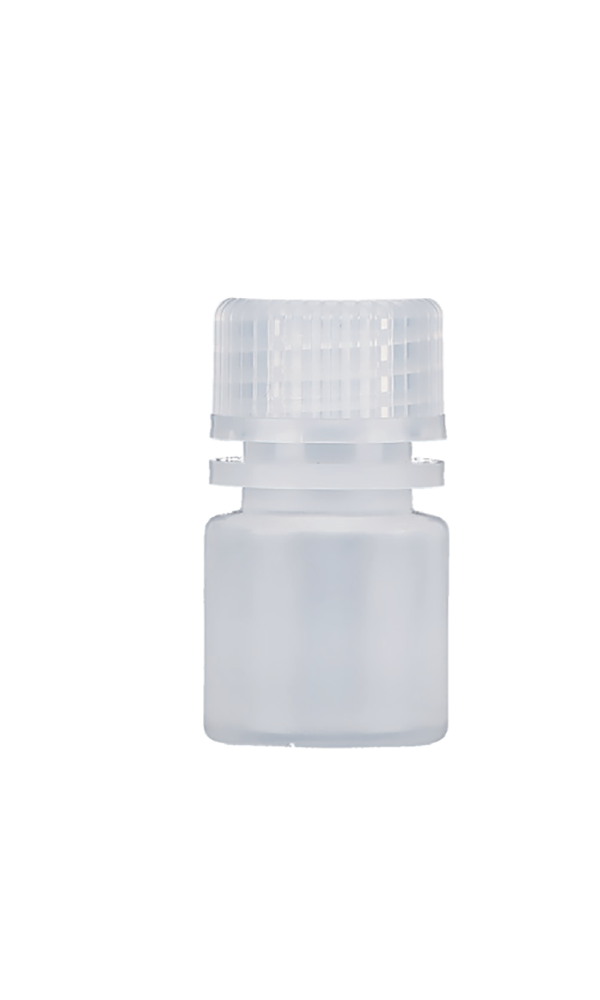 Product number: 613002
8ml transparent PP wide mouth reagent bottle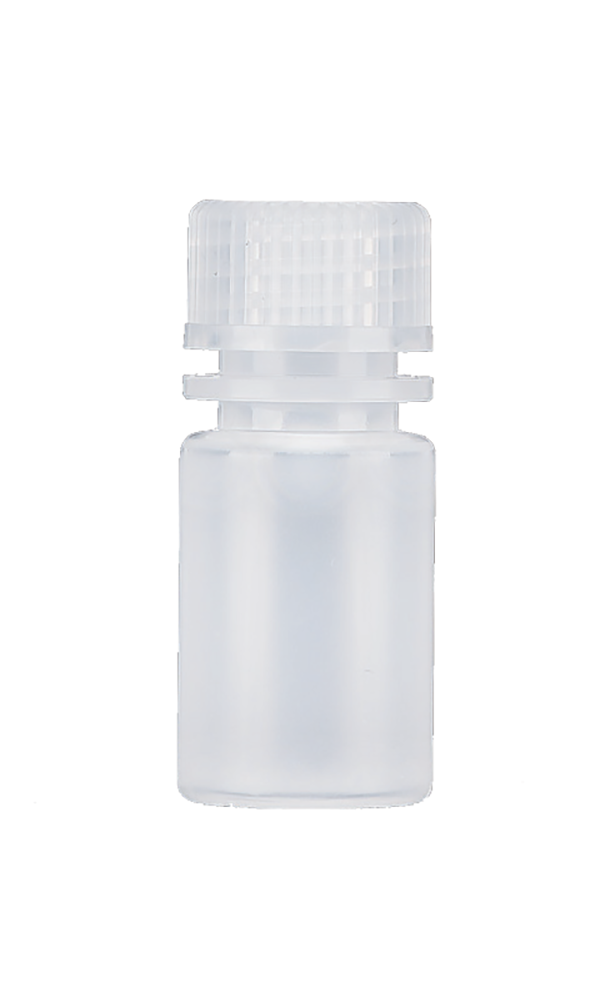 Product number: 601002
15ml transparent PP wide mouth reagent bottle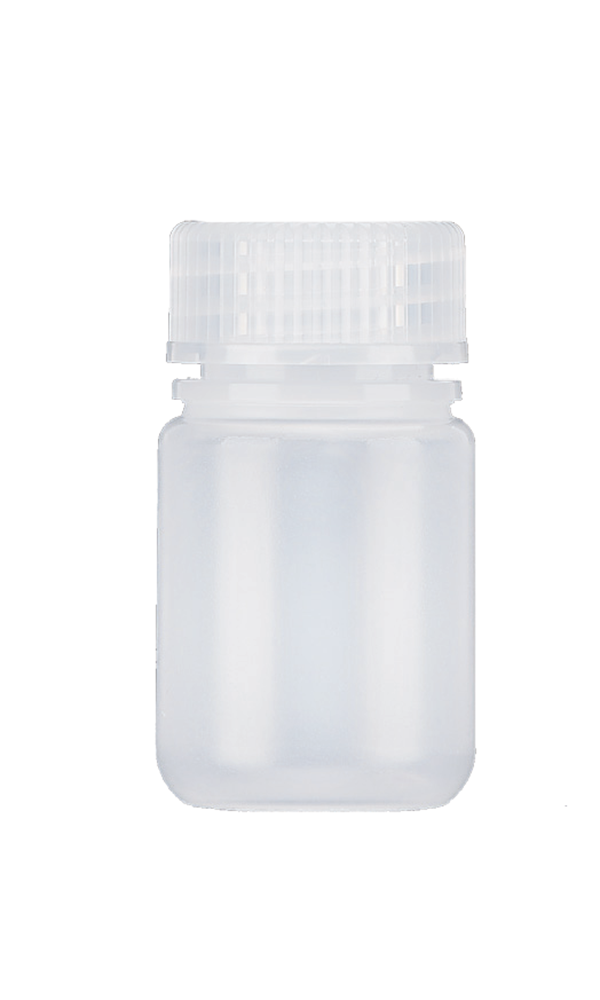 Product number: 602002
30ml transparent PP wide mouth reagent bottle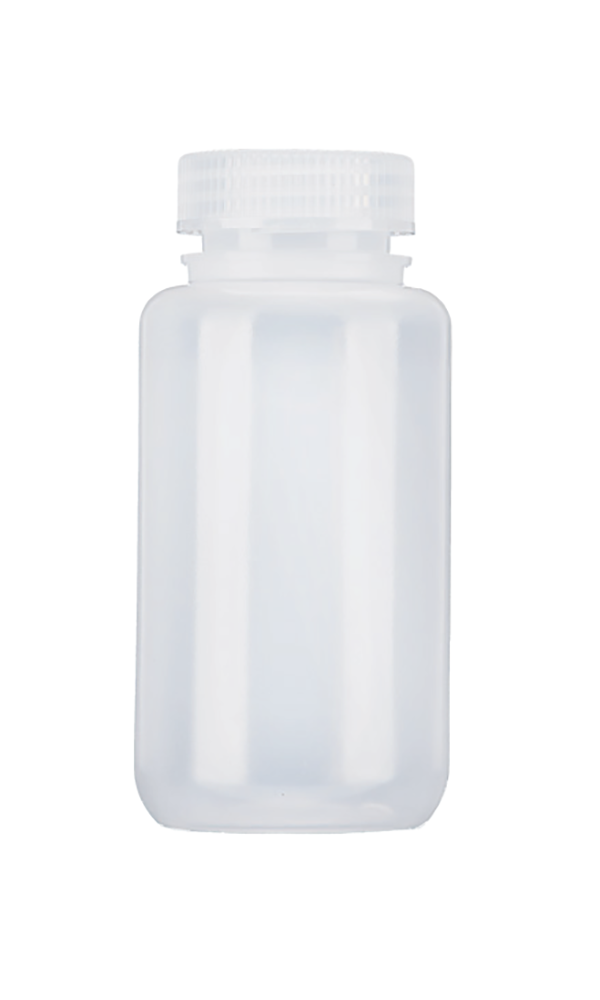 Product number: 603002
60ml transparent PP wide mouth reagent bottle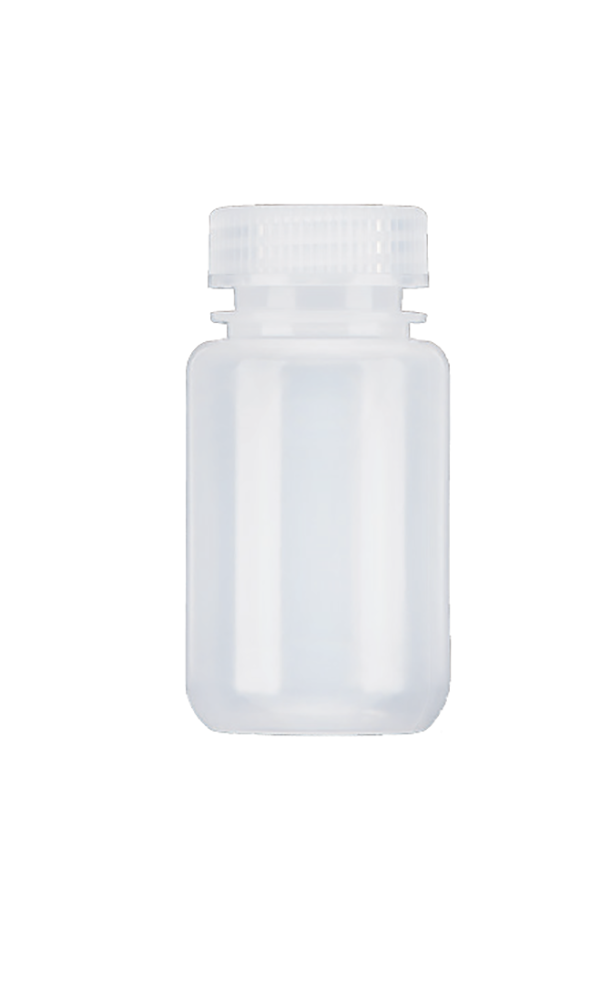 Product number: 604002
125ml transparent PP wide mouth reagent bottle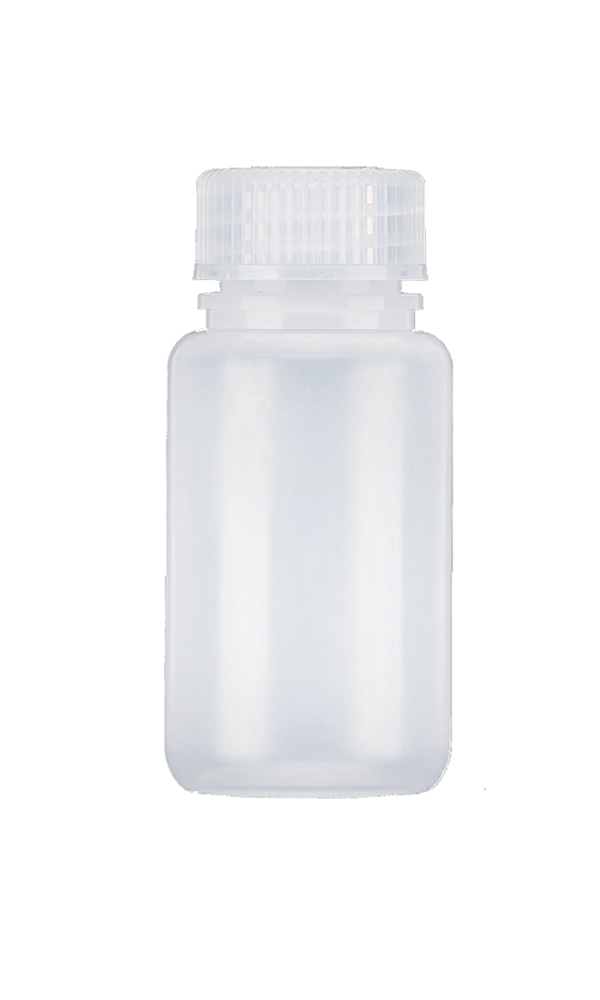 Product number: 605002
250ml transparent PP wide mouth reagent bottle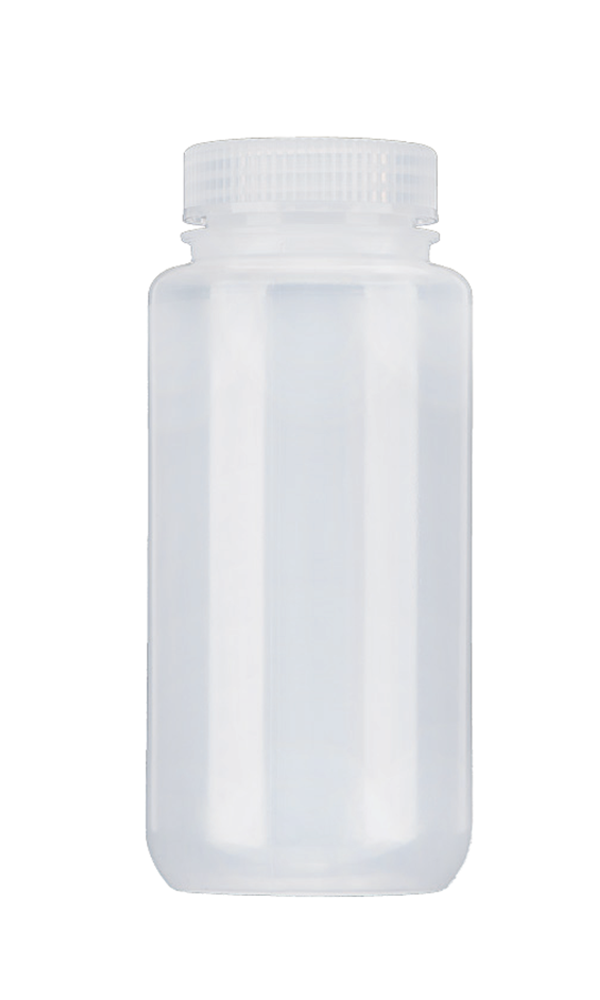 Product number: 606002
500ml transparent PP wide mouth reagent bottle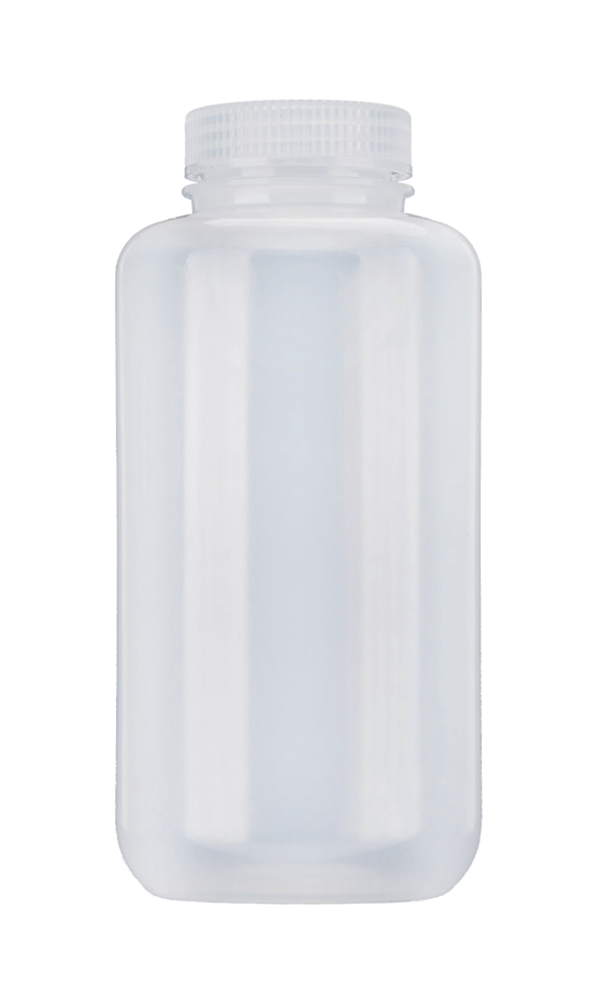 Product number: 615002
1000ml transparent PP wide mouth reagent bottle
| Product number | Capacity | Material | Product name | Bottle outer diameter D1 (mm) | Bottle height H1 (mm) | Bottle mouth ID D2 (mm) | Bottle cap OD D3 (mm) | Bottle cap H2 (mm) | Height Product Unit weight (g) | Packaging specifications |
| --- | --- | --- | --- | --- | --- | --- | --- | --- | --- | --- |
| 613002 | 8ML | PP | 8ML Transparent PP wide mouth reagent bottle | Φ24.8 | 43 | Φ17.4 | Φ24.2 | 14.5 | 5.98 | 150pcs/bag 10bags/carton |
| 601002 | 15ML | PP | 15ML Transparent PP wide mouth reagent bottle | Φ24.8 | 56 | Φ17.4 | Φ24.2 | 14.5 | 6.98 | 120pcs/bag 10bags/carton |
| 602002 | 30ML | PP | 30ML Transparent PP wide mouth reagent bottle | Φ34.2 | 59.2 | Φ24.9 | Φ32.2 | 15.73 | | |
| 603002 | 60ML | PP | 60ML Transparent PP wide mouth reagent bottle | Φ39.0 | 81.5 | Φ24.9 | Φ32.2 | 15.73 | | |
| 604002 | 125ML | PP | 125ML Transparent PP wide mouth reagent bottle | Φ50.7 | 95.7 | Φ32.2 | Φ42.2 | 15.94 | | |
| 605002 | 250ML | PP | 250ML Transparent PP wide mouth reagent bottle | Φ60.9 | 127 | Φ36.9 | Φ46.4 | 16.81 | | |
| 606002 | 500ML | PP | 500ML Transparent PP wide mouth reagent bottle | Φ73.2 | 162.3 | Φ47.6 | Φ57.5 | 16.81 | | |
| 615002 | 1000ML | PP | 1000ML Transparent PP wide mouth reagent bottle | Φ91.9 | 193.9 | Φ47.6 | Φ57.5 | 16.81 | | |
| 613102 | 8ML | PP | 8ml Transparent PP wide-mouth reagent (sterilised fine pack) | Φ24.8 | 43 | Φ17.4 | Φ24.2 | 14.5 | | |
| 601102 | 15ML | PP | 15ml Transparent PP wide-mouth reagent (sterilised fine pack) | Φ24.8 | 56 | Φ17.4 | Φ24.2 | 14.5 | | |
| 602102 | 30ML | PP | 30ml Transparent PP wide-mouth reagent (sterilised fine pack) | Φ34.2 | 59.2 | Φ24.9 | Φ32.2 | 15.73 | | |
| 603102 | 60ML | PP | 60ml Transparent PP wide-mouth reagent (sterilised fine pack) | Φ39.0 | 81.5 | Φ24.9 | Φ32.2 | 15.73 | | |
| 604102 | 125ML | PP | 125ml Transparent PP wide-mouth reagent (sterilised fine pack) | Φ50.7 | 95.7 | Φ32.2 | Φ42.2 | 15.94 | | |
| 605102 | 250ML | PP | 250ml Transparent PP wide-mouth reagent (sterilised fine pack) | Φ60.9 | 127 | Φ36.9 | Φ46.4 | 16.81 | | |
| 606102 | 500ML | PP | 500ml Transparent PP wide-mouth reagent (sterilised fine pack) | Φ73.2 | 162.3 | Φ47.6 | Φ57.5 | 16.81 | | |
| 615102 | 1000ML | PP | 1000ml Transparent PP wide-mouth reagent (sterilised fine pack) | Φ91.9 | 193.9 | Φ47.6 | Φ57.5 | 16.81 | | |