Product Features
Quality construction
SUNTRINE pilot bottles utilise high quality construction for lighter weight and lower bottle costs, and can be factory packed in bulk with a choice of packaging materials.
Natural PP/ HDPE
SUNTRINE reagent bottles are made of imported pure PP/HDPE material, which is non-biotoxic, with excellent physical and chemical indexes, strong resistance to pressure, impact and acid, polypropylene is resistant to high temperature 121℃, polyethylene isresistant to low temperature -80℃, and meets the requirements of high temperature and autoclave treatment.
Complete range of sizes
SUNTRINE reagent bottles are designed to be leak-proof so that repeated opening and tightening will not affect the sealing performance of the bottle, and the sealing ring inside the cap fits snugly against the bevelled inner edge of the neck to form a leak-proof valve to ensure the cap is sealed.
Uniform wall thickness, no wall hanging
SUNTRINE's world-advanced moulding technology and manufacturing facilities ensure that the reagent bottles have a more uniform wall thickness, high quality walls, a robust construction making them suitable for any laboratory application and effective in preventing breakage or punctures, and a flat bottom which is designed for smooth operation on the filling line. Sterilised plastic bottles are sterilised by E-beam irradiation and are ready to be opened and used, greatly improving user packaging efficiency. Ensures no DNase/RNase, no pyrogens, no endotoxins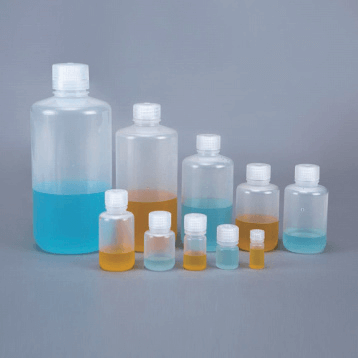 Full range of clear PP narrow mouth reagent bottles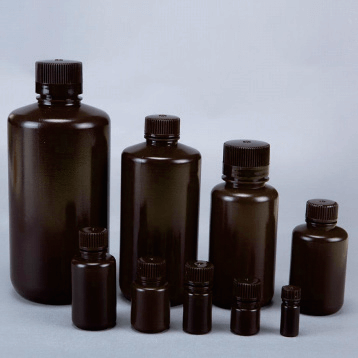 Complete range of brown PP narrow mouth reagent bottles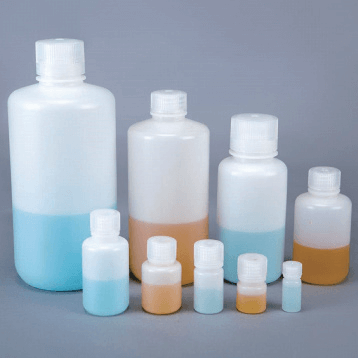 Full range of natural HDPE narrow mouth reagent bottles
Full range of brown HDPE narrow mouth reagent bottles