Product Features
Mainly used for the collection, transport and storage of samples from the pharyngeal area in hospitals, CDCs and third party testing centres, for the collection, storage and transport of viruses, chlamydia, mycoplasma and ureaplasma.
The innovative spray implanted nylon fiber technology of the disposable sampler maximizes the sampling efficiency of the sampling swab. The nylon fiber is vertically and evenly attached to the surface of the swab head, which can maximize the collection and release of virus samples. And no RNase, DNase;
The disposable sampler, that is, the swab rod is made of ABS material, with a unique breakable design, making it easy to break off samples;
It is suitable for the collection of samples from the nasopharynx, oral cavity, throat, and forensic medicine, as well as the collection of viruses, DNA and other samples. It has obvious advantages in the collection of viruses and DNA.
Product number
product name
Material
Breaking point
Packing
Weight
902101
Viral Transport Medium Tube with Swab(30 throat swab set)
ABS rod + nylon flocking
30MM
20 sets/box, 200 sets/carton
25 sets/box, 250 sets/carton
30 sets/box, 300 sets/carton
12.5g±0.1/set 460g±5g/box 5.368kg/carton
12.5g±0.1/set 552.5g±5g/box 5.993kg/carton
12.5g±0.1/set 585g±5g/box 6.618kg/carton
908101
Viral Transport Medium Tube with Swab(80 throat
swab set)
ABS rod + nylon flocking
80MM
20 sets/box, 200 sets/carton
25 sets/box, 250 sets/carton
30 sets/box, 300 sets/carton
12.5g±0.1/set 460g±5g/box 5.368kg/carton
12.5g±0.1/set 552.5g±5g/box 5.993kg/carton
12.5g±0.1/set 585g±5g/box 6.618kg/carton
903101
Viral Transport Medium Tube with Swab(Nose swab set)
ABS rod + nylon flocking
100MM
20 sets/box, 200 sets/carton
25 sets/box, 250 sets/carton
30 sets/box, 300 sets/carton
12.5g±0.1/set 460g±5g/box 5.368kg/carton
12.5g±0.1/set 552.5g±5g/box 5.993kg/carton
12.5g±0.1/set 585g±5g/box 6.618kg/carton
907101
Viral Transport Medium
Tube with Swab(Nose swab
set+80 throat swab set)
ABS rod + nylon flocking
100MM/
80MM
20 sets/box, 200 sets/carton
25 sets/box, 250 sets/carton
30 sets/box, 300 sets/carton
12.5g±0.1/set 460g±5g/box 5.368kg/carton
12.5g±0.1/set 552.5g±5g/box 5.993kg/carton
12.5g±0.1/set 585g±5g/box 6.618kg/carton
Swab Types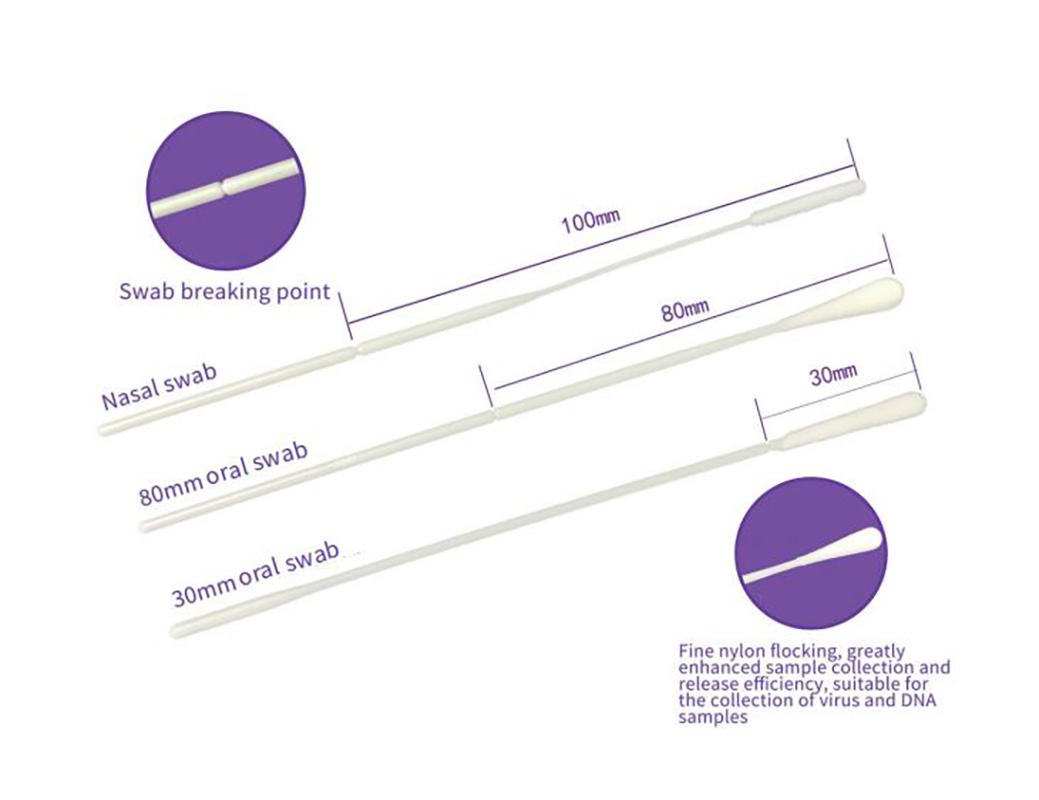 Preservation tube/preservation fluid type